Jul 20, 2020
The Fed Expands Main Street Lending Program to Hospitals and Nonprofits
By Daniel O. Carroll, Esq. and Deborah A. Cmielewski, Esq.
On July 17, 2020, the Board of Governors of the Federal Reserve System modified the Main Street Lending Program (the "Program") to provide greater access to loans for hospitals and other nonprofit organizations, such as educational institutions and social services organizations. Established in March 2020 under the Coronavirus Aid, Relief and Economic Security Act (CARES Act), the Program is intended to make up to $600 billion in loans available to eligible borrowers.
The Program was initially created to provide liquidity to small and medium-sized for-profit businesses reeling from the economic effects of the COVID-19 pandemic. Recognizing the vital services that they provide, and the millions of Americans employed by these organizations, the Federal Reserve System expanded the Program to extend similar assistance to struggling nonprofits.
The Program now operates with five (5) different third-party lending facilities: the Main Street New Loan Facility, the Main Street Priority Loan Facility, the Main Street Expanded Loan Facility, the Nonprofit Organization New Loan Facility and the Nonprofit Organization Expanded Loan Facility.
In the most recent modification to the Program, the Federal Reserve System released term sheets for two (2) new types of loans available to nonprofit organizations that were financially healthy and had been in business at least five (5) years prior to the COVID-19 pandemic. While the eligibility criteria for nonprofits was eased from the initial proposal in order to make loans more broadly available, each organization must be a 501(c)(3) or 501(c)(19) tax-exempt organization. Loans are made for a five (5) year term in amounts that range from a minimum of $250,000 up to a maximum of $300 million. Nonprofits must have a minimum of ten (10) employees to qualify.
The Federal Reserve System's press release announcing the new loan facilities provides the following useful explanatory chart: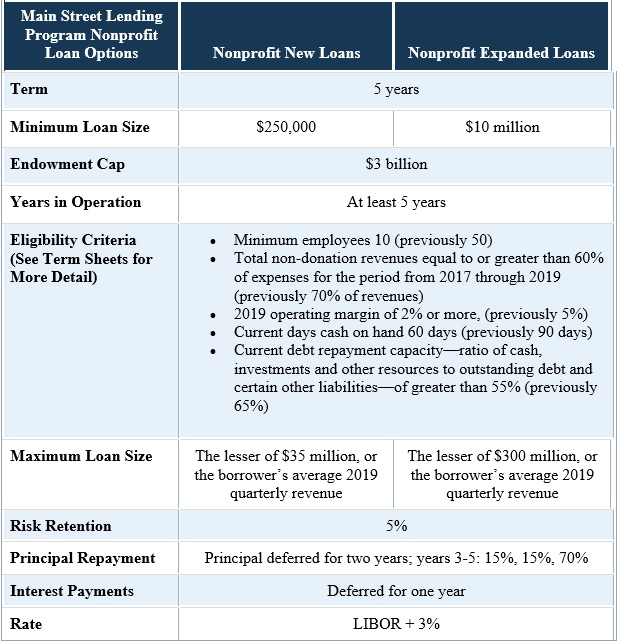 [chart available on www.federalreserve.gov]
Term Sheet for the Nonprofit Expanded Loan
Term Sheet for the Nonprofit New Loan
For more information, contact Daniel O. Carroll, Esq. at doc@spsk.com or 973-631-7842 or Deborah A. Cmielewski, Esq. at dac@spsk.com or 973-540-7327.