September 26, 2023
John D. McCarthy Named a 2023 NJBIZ Veterans in Business Honoree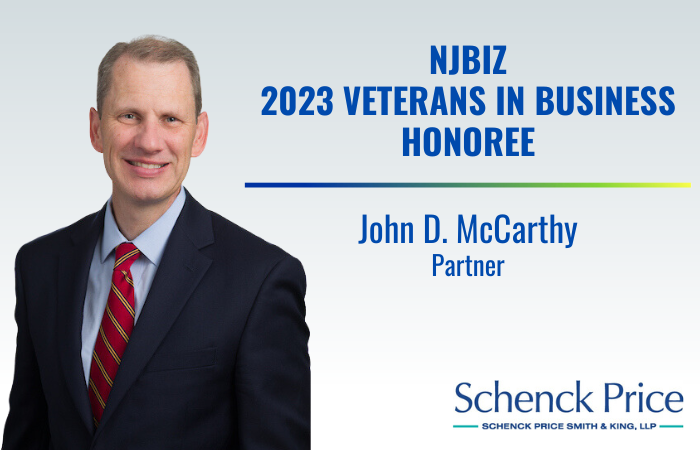 Congratulations to Partner John (Jake) D. McCarthy for being named a 2023 NJBIZ Veterans in Business honoree! This recognition honors military veterans who are making a significant impact on New Jersey business as well as continuing to give back to their community. Since this is a new NJBIZ awards program, Jake will be among the first class of NJBIZ Veterans in Business honorees and will be recognized during a virtual awards ceremony on November 7.

After graduating from Seton Hall Law School in 1994, Jake served as an Assistant Prosecutor in the Hudson County Prosecutor's Office. He litigated many difficult cases, including a nationally televised murder trial where the defendant was accused of killing a police officer in Kearny. In 1996, Jake made the courageous decision to enlist in the United States Navy Reserve. He served for six years as an Intelligence Specialist First Class. When asked about an accomplishment he is most proud of during his time with the Navy Reserve, Jake recalled, "My unit planned evacuation routes for several United States Embassies. It was truly a meaningful experience to see those plans enacted by brave marines who evacuated civilians from countries in crisis, and I am proud to have been a part of those successes."

As a partner at Schenck Price for more than 22 years, Jake often represents law enforcement in use of force, civil rights, and employment matters. He is a member of the Commercial Litigation, Labor and Employment Law, and Insurance Defense Practice Groups. "My service within the military taught me many lessons and I left with many skills that I apply to my practice of law each day. The Navy Reserve emphasized the values of duty and honor, which correlate with how I conduct my practice," says Jake. "I have a duty to represent my clients zealously, however, I will do so honorably."

Jake is active in his community and provides pro bono legal advice for residents at Bloom for Women, a nonprofit dedicated to empowering survivors of sexual trafficking and exploitation in the Lehigh Valley. Jake served as a President of the Pastime Club in Mendham, which funds local youth sports, and was an assistant coach for the Mendham Magic Track Team.


*No aspect of this advertisement has been approved by the Supreme Court of New Jersey. Results may vary depending on your particular facts and legal circumstances.