October 9, 2023
Farah N. Ansari and Robert F. McAnanly Assist Three Non-Profit Entities in Obtaining Full Forgiveness of Nearly $17 Million in PPP Loans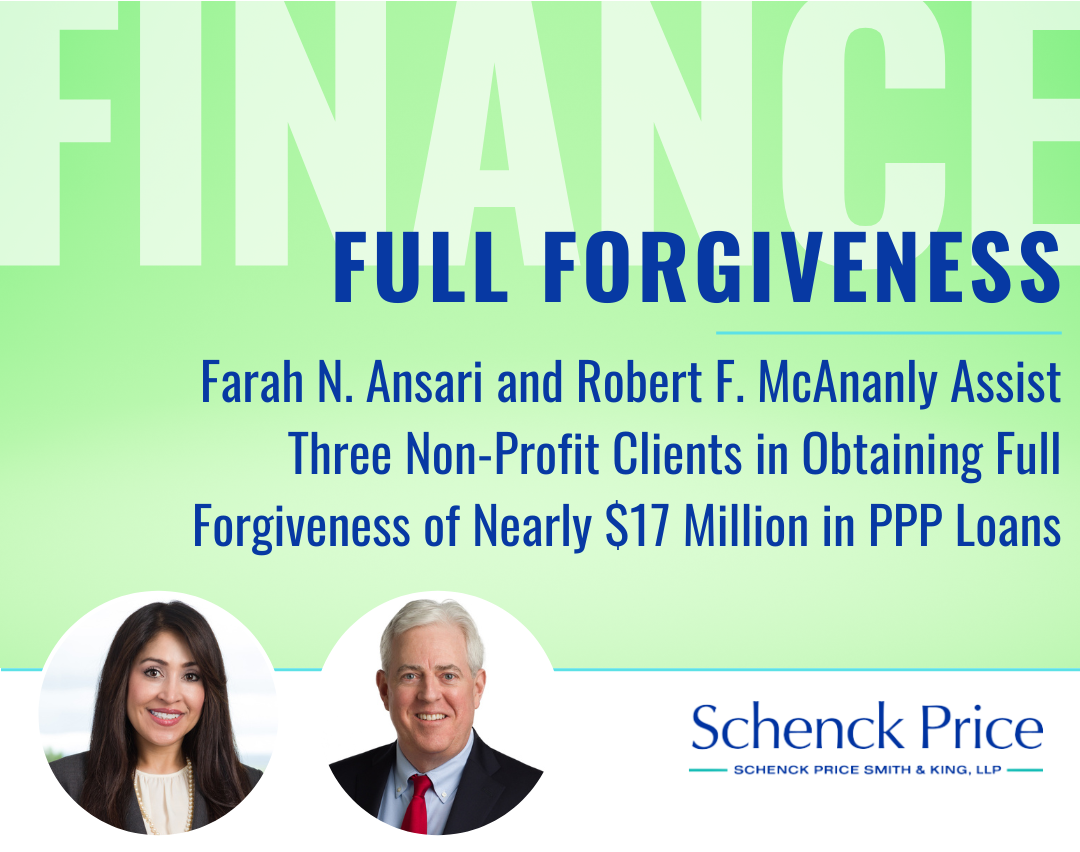 Schenck Price attorneys recently assisted three non-profit entities in obtaining full forgiveness of Paycheck Protection Program ("PPP") loans totaling nearly $17,000,000.

Farah N. Ansari, Partner and Co-Chair of the Nonprofit Practice Group, and Robert F. McAnanly, Jr., Counsel in the firm's Banking and Finance Practice Group specializing in Small Business lending, collaborated to obtain full forgiveness of these substantial loans.

The first client came to the firm when it had trouble applying for forgiveness of a PPP loan of more than $8,000,000. That client was told by its bank that it was ineligible for both the original PPP loan and forgiveness of that loan. Attorneys Farah and Robert presented the lender with innovative legal theories supporting the client's loan eligibility and right to full forgiveness of its PPP loan.

The U.S. Small Business Administration ("SBA") eventually issued guidance which altered its position on non-profit eligibility, using much of the same rationale that Farah and Robert had put forth. With the new guidance in place, they were able to push the lender to pursue further review of the loan by the SBA, without the need for a formal appeal. Full forgiveness was subsequently granted.

The additional two clients received formal forgiveness denials from the SBA. Farah and Robert filed timely appeals of both denials through the SBA's Office of Hearings and Appeals and were able to obtain full forgiveness of the second non-profit's PPP loan, which exceeded $5,000,000.

Schenck Price's third non-profit client that was formally denied forgiveness in July of this year was able to receive full forgiveness with the guidance of Farah and Robert. The grounds for denial were extremely broad and vague, necessitating resubmission of numerous supporting financial documents. They filed a timely appeal that included more than 60 exhibits. The thoroughness of the appeal prompted an immediate re-examination of the client's forgiveness application, by the SBA. That new review resulted in full forgiveness of a PPP loan, which exceeded $3,000,000.

If you believe that your PPP loan has been wrongfully denied forgiveness, it is imperative to act quickly to file an appropriate appeal. Schenck Price attorneys would be glad to assess your situation and, if appropriate, assist you with an appeal of your denial. While the above examples involved non-profit entities, Schenck Price is capable and equipped to work with any PPP borrower that has been wrongfully denied forgiveness.


*No aspect of this advertisement has been approved by the Supreme Court of New Jersey. Results may vary depending on your particular facts and legal circumstances.