September 27, 2023
Edward W. Ahart Celebrates a Distinguished 50-Year Career at Schenck Price Smith & King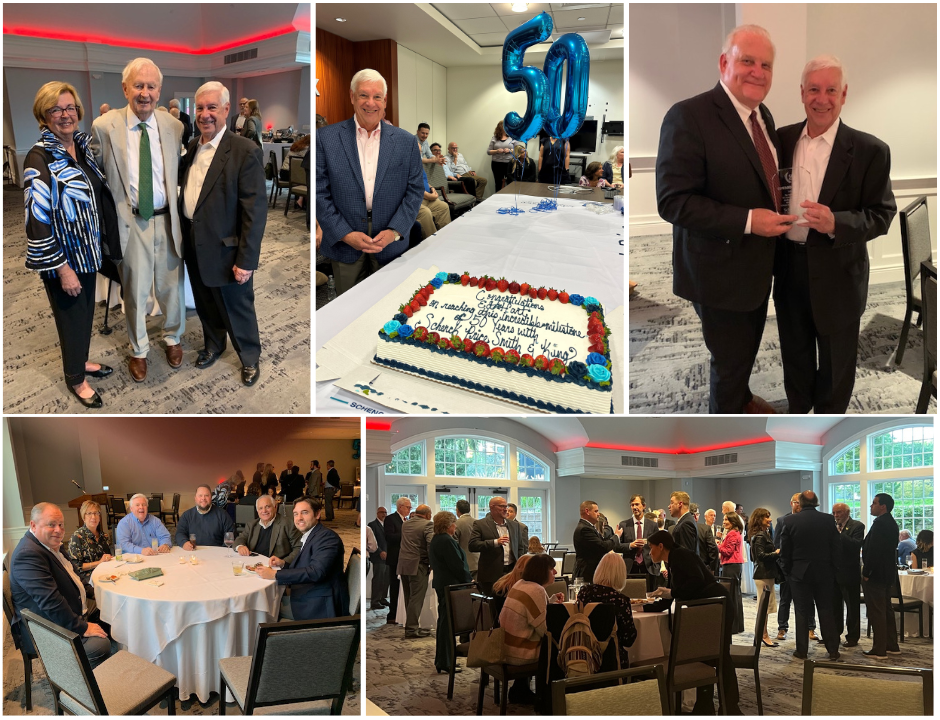 Edward W. Ahart Celebrates a Distinguished 50-Year Career at Schenck Price Smith & King
Schenck Price Smith & King recently celebrated a special anniversary—Partner Edward W. Ahart, Co-Chair of the Corporate and Business and Nonprofit Organization Practice Groups, has been with the firm for over 50 years! Ed's work over the last five decades—including a 20-year tenure as Managing Partner—has greatly contributed to the growth and stature of the Schenck Price law firm that we know today.

The Early Years
As a young lawyer, Ed started working in the library doing research. ("Using books!" he exclaims.) Researching, writing memoranda, and drafting briefs and documents for hearings evolved into working with partners and other seasoned lawyers on specific litigation matters.

"When I joined the firm, its major practice area was insurance defense litigation," says Ed. "I began my career as an insurance defense litigator, tried a number of cases, and eventually became a certified civil trial lawyer in New Jersey."

After a time, Ed's caseload began to include product liability cases, including work for Gravely Tractors and Equipment and Amana Refrigeration. Cessna Aircraft, at the time based in New Jersey, was also a client. Gradually, the cases that Ed worked on began to shift to corporate matters.

After a mere five years with Schenck Price, Ed became a partner and two years after that, he was appointed to the Management Committee. As a member of the firm's governing body, Ed was increasingly asked to take on management issues at the Firm, while keeping to a demanding schedule of depositions, trials, etc.—all the tasks of a very busy lawyer.

As a result of his dual role, Ed had a front row seat to the challenges—and opportunities—of a growing law firm.

"As with any organization that has been around as long as we have—111 years—the firm has undergone much change," Ed observes. "We have had lots of good years and others that were not so good."

One such time was right around 1984. Ed Vogt, the Managing Partner, passed away and Stewart Pollock, another senior partner, was recruited to become a member of the state's Public Utilities Commission. (He ultimately was appointed a Justice of the Supreme Court of New Jersey.) It was during this time that several senior partners left—with their clients—which created a significant void.

"The firm was about 25 lawyers at the time," Ed remembers. "Cliff Starrett, one of our senior partners, asked me to lunch and said 'I think we are in trouble.' We agreed that each of us would take half the remaining lawyers and persuade every single one of them to stay, which we did. Cliff reluctantly became the Managing Partner, and I was his second in command. We were jokingly referred to as 'the King and Prime Minister.'

"Cliff was a towering figure in the Morristown area. We needed his leadership, reputation, and his business development prowess."

At the Helm 1990-2010
In 1990, Cliff Starrett retired, and Ed became Schenck Price's newest Managing Partner. During Ed's tenure, Schenck Price experienced significant growth, expanding from a 25-attorney firm to one with over 70 attorneys.

A couple of key acquisitions helped boost Schenck Price's lawyer headcount. "We merged with the firms of Farrell Curtis Davidson and Gallo Geffner Fenster, bringing in a number of attorneys, some of whom are still with us today," says Ed. "In addition, every summer Michael Mullen, John DeMarco, and I recruited personally at a number of law schools."

Prosperous years followed, derailed briefly by the Great Recession in 2008. Overall, Ed's 20 years as Managing Partner were marked by innovation and growth.

"We put into place basic budgeting and reporting procedures that the firm is still using today, with some changes of course," says Ed. "We also purchased modern accounting software and installed a comprehensive computer system. In addition, we established the first health benefit and pension plans for all staff and attorneys, as well as an innovative plan for purchasing the equity of withdrawing partners. Schenck Price was also among the very first law firms in New Jersey to appoint female partners."

Notably, Ed presided over two significant construction projects designed to enhance Schenck Price's headquarters off the Morristown Green. "Our office, dating back to 1912, was in a row of buildings on Washington Street," recalls Ed. "By the time we left, we occupied all the buildings except for one. During one project, we all wore safety helmets every day during the construction, had heavy machinery operating on site, and even had to cut a large hole in the roof during the winter to create space for a new elevator! We were very excited by our new office space, and everybody pitched in before our first Open House, washing windows and spiffing up the interior. It was a great bonding experience."

A Return to Full-Time Lawyering
In 2010, at the same time that Ed's time as Managing Partner was winding down, Schenck Price moved its entire operation to Park Place in Florham Park, where it currently operates. Another renovation ensued with the new space being designed to be modern, yet reflective of the Firm's heritage.

"Our library wall at our Washington Street office was originally a bank teller's cage. Our receptionist in the old days sat there with a plug-in switchboard. We brought over the wall to Park Place to preserve a bit of who we were."

A key architectural feature of the new office was the library, which came to be known as the Ahart Library. The firm designed the current room as a 19th century traditional library with books and photos that hark back to a much earlier time. The bookcases were purchased by the firm in 1929.

"Ed was a very special Managing Partner who moved the firm forward in so many areas," says Gary F. Werner, who currently leads Schenck Price. "Ed always had a strong interest in the history of law, the firm, and Morristown, so it seemed fitting to name our 'new' library in his honor."

After 2010, Ed got to work building his practice anew. He was about to expand his client roster with some very interesting and prestigious organizations.

"I had been quite active in the community, particularly through the Morris Chamber of Commerce," says Ed. "I was on the Board and was the Chair for a number of years. That gave me a very visible platform which led to significant work."

Before long, Ed was being recommended as the attorney for Lamart Corporation, who was looking to change counsel.

"The role with Lamart led to my professional association with the Council of Fashion Designers of America (CFDA). Lamart's accountants and I worked together for years, and they also happened to be the accountants for the CFDA." Other clients soon followed including the National Association of Cosmetic Chemists and the National Association of Document Examiners, for example.

Ed's career, in his own words, "has been a long and winding road," but the journey has been very rewarding. "My career has included clients with whom I have worked for 40 years including the Mahan Family and the Millington Quarry Group. In the for-profit world, I primarily counsel privately held companies, and handle M&A, financing, daily operational and contract issues, as well as succession planning and counseling. This work has also led to me serve as a trustee on about a dozen trusts."

One notable nonprofit organization is the Fannie E. Rippel Foundation, where Ed currently serves as Board Chair. "In 1953, our firm created the Fannie E. Rippel Foundation out of the will of Julius Rippel. As a young lawyer, I represented the management of the Foundation and was asked to join their board." Ed is also the Board Chair of the Mimi Washington Starrett Foundation (named for the wife of former partner Cliff Starrett) and has served on the board and as the Board Chair of Lafayette College, which also awarded him with an Honorary Doctor of Laws degree.

Among the other organizations for which Ed has served on the Board include The Mayo Performing Arts Center, the Greenwich Cemetery Association, The Warren County ARC, and The Morristown Club.

"Throughout my career, the narrative that I have tried to promote is that our firm is deeply committed to our clients and has the technical skills and strategic insight to get the job done," he says.

Ed is especially proud of his work in the community and the not-for-profit foundation world. "I hope I have helped people understand that Schenck Price is a firm of great integrity with a deep commitment to the community. The leaders of our firm who came before me—people I consider mentors like Ed Vogt, Cliff Starrett, Stewart Pollock, Harold Price and others were not only outstanding lawyers but fine, caring people of character. I have always strived to be like them, and I hope that our firm will have that reputation forever."

As he reflects on his 50-year career as an attorney at Schenck Price, Ed is gratified by the experience. "I'm truly amazed at the life I've lived. I have wonderful relationships with really interesting clients and in the course of my work with the Chamber of Commerce, Lafayette College and the various foundations, I've met with a number of U.S. presidents, as well as governors, senators, and a few foreign heads of state. I have had a rich life in the arts and in higher education and have met many engaging people along the way.

"That mix, together, has truly been a blessing and not anything I could have imagined or designed."

Congratulations, Ed, on a truly remarkable career. And thankfully for Schenck Price Smith & King, it's not over yet.